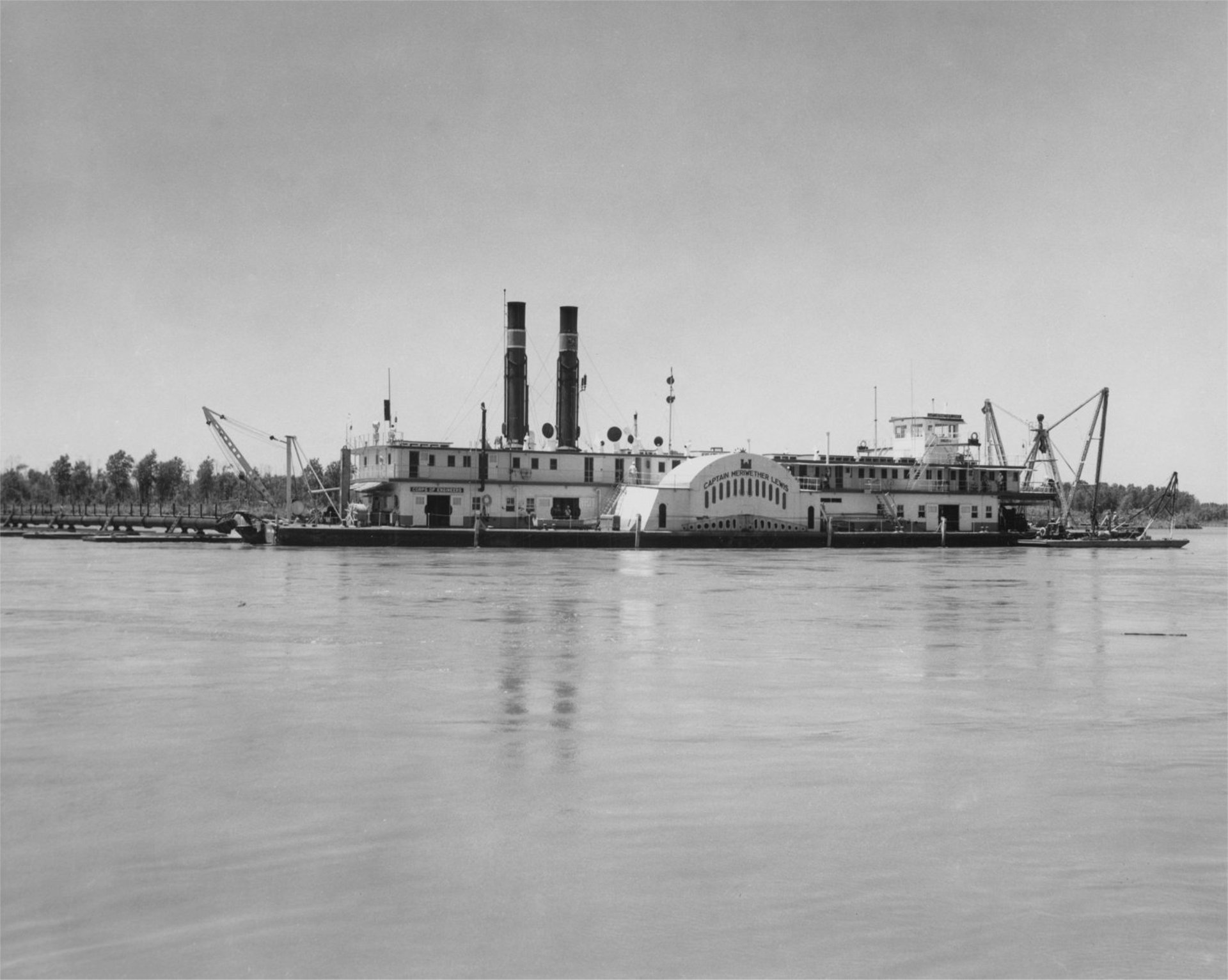 – First job was May 21, 1932, at Cambridge Bend near Glasgow, MO
– Last Dredging job was to clean the Florence Boat Basin north of Omaha, November 1-4,1965
– Moved to the Corps of Engineers, Gasconade, MO boat yard, May 23, 1969
– Given to the Nebraska State Historical Society, June 30, 1976
– Moved from Gasconade, MO to Brownville, NE, April 11-18, 1977, by towboat Twyla Marge
– Moved to temporary lock basin, May 19, 1977
– Moved to dry dock cradle, June 14, 1979
– Dedicated as the Museum of Missouri River History, June 7, 1982
Unveiling itself as a symbol of innovation and resilience, the Captain Meriwether Lewis stands as one of the precious few surviving remnants of its kind, meticulously crafted to tame the unruly forces of flooding and pave the way for enhanced navigation along our nation's majestic rivers.

Its very presence is a testament to the ingenuity of humankind, an irrefutable reminder of our unyielding determination to conquer nature's challenges.
The Captain Meriwether Lewis was a monumental vessel birthed into existence by the skilled hands of the Marietta Manufacturing Co. in Point Pleasant, West Virginia.

On December 2, 1931, this side wheel steam paddle dredge took to the waterways under the esteemed patronage of the U.S. Army Corps of Engineers.

Its purpose, a testament to human ingenuity, was to carve and preserve the mighty Missouri River as a navigable waterway, standing as evidence to the perseverance and dedication of its hard working crew of 52, with quarters available for 55 men.

This colossal marvel, measuring an astounding 268 feet in length, possessed the power to excavate depths of 20 feet, tirelessly cutting through the earth at an average pace of 150-200 feet per hour.

Powered by the magnificent 25-foot steam-propelled paddle wheels, this relentless dredge consumed up to 6,000 gallons of oil in a single day.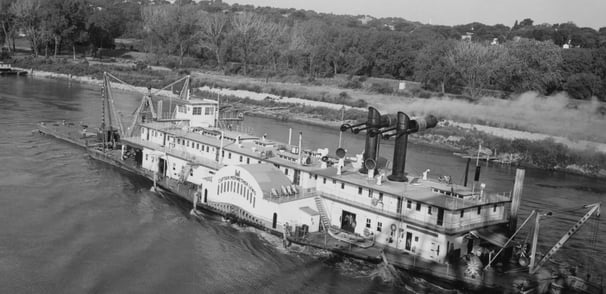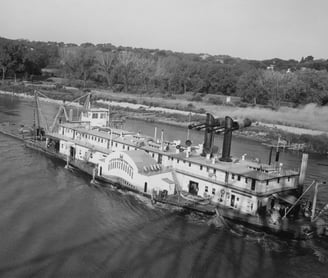 Fueling its fiery spirit, the Babcock and Wilcox marine boilers produced an astonishing 40,000 pounds of steam per hour, while the triple expansion engine, endowed with 1,300 horsepower, propelled the pump turbine.

The dredge's forward momentum, however, was orchestrated by the two deck gypsies, summoning its powerful presence without reliance on the paddle wheels during the dredging operation.

In 1976, the Captain Meriwether Lewis found its hallowed home in the embrace of the Nebraska State Historical Society in Brownville, where it was meticulously dry berthed along the ever-flowing Missouri River – and designated a National Historic Landmark in 1989.

As you traverse its hallowed halls, you will uncover the vessel's pivotal role in shaping the navigational legacy of the Missouri River, a chapter etched in the annals of our nation's rich history.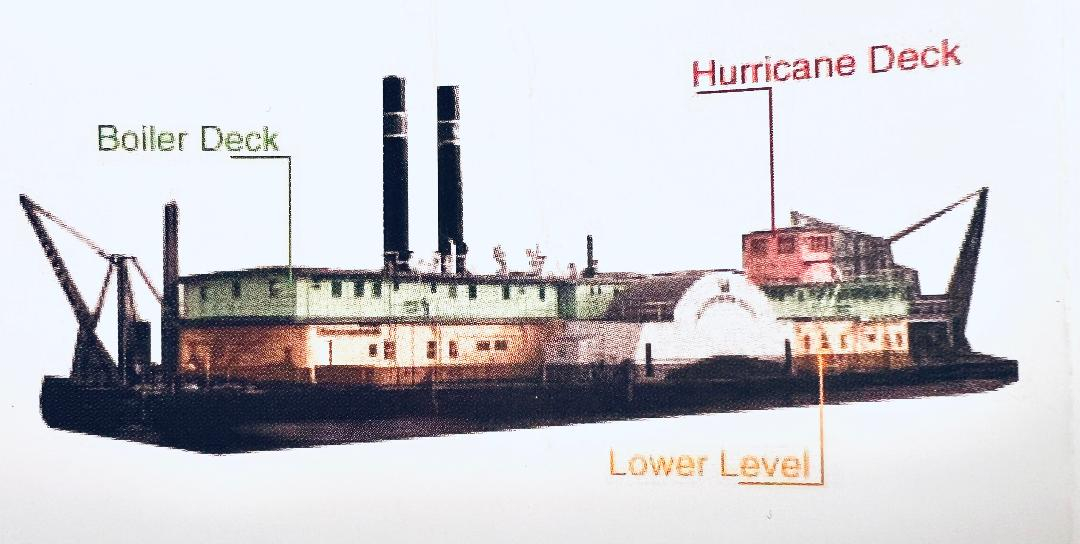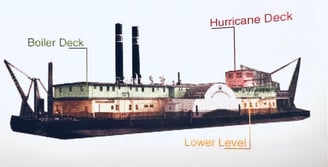 #1 The Forward End of the Forward House, called the "Officers' Quarters" by Corps personnel, includes the open, central engine room well, surrounded by fourteen staterooms and heads (bathrooms). This area also includes the office area, flanked by the captain and chief engineer's cabins.

#2 The Aft End of the Forward House, which includes the galley, a separate wardroom and mess.

#3 The Aft House, which contains the boiler casing and crew's quarters. Corps personnel referred to this section as the "Crew's Quarters."
The topmost level of the Meriwether Lewis Dredge houses the Pilot House, which contains original equipment and is largely unaltered except for the absence of the wheel, the dredge's bell, and installation of picture windows.

During the vessel's career the wheel was replaced with a tiller. The remaining "sticks" control the rudders via a steam-operated cylinder located in the aft hull.

The dredge's bell was retained by the U.S. Army Corps of Engineers at their Gasconade, MO boat yards.
The lower level of the dredge is divided into four major areas:
#1 The Open Dredge Intake and Derrick Area
#2 The Engine Room
#3 The Boiler Flat
#4 The Machine Shop
– Launched - December 12, 1931
– Trial Trip - April 11, 1932
– Built - Marietta Manufacturing Company
– Hull - steel riveted; a new bottom, continuous weld, 1962
– Length - 268' 11.5"
– Beam of Hull - 50'
– Width, overall - 85'
– Depth of hull amidship - 8'c"
– Draft, loaded - 4'6" to 5'
– Height from water line - 62'6" with stacks up & 48' with stacks down
– Tonnage, loaded - 1,456
– Quarters available - 58
– Operating crew - 52
– Crew required for one shift - 11
– Propelling - sidewheel, 25' diameter and 13.6" width
– Propelling engines - 20-40" x 7', 800 H.P. each. Approximate weight 29 tons each
– Boilers, water tube (2) - Cross drum sectional header with 4,500 sq. feet of heating surface; approximate – weight each 210,000 lbs.
– Boiler Horsepower, - 700 H.P. each
– Boiler Pressure - 250 lbs. per sq. inch
– Fuel used - 4,000 to 6,000 gallons during 24 hours of operation
– Pumping Engine - Vertical, triple size, 18"-29" - 47.5"x20", 1300 H.P.
– Pump, centrifugal weight - 52,631 lbs.
– Pump impeller - Diameter 82" (inside width of impeller=17")
– Pump revolutions - 60 per minute
– Discharge capacity - Gallons per minute = 40,000 at 128' head & 60,000 at 85' head
– Diameter of discharge pipe - 34" at stern
– Length of pontoon line - Operates on 500-1,000'
– Type of suction head - Dustpan = 36' wide
– Maximum digging depth - 20'
– Agitator - Water jet via 38 nozzles with water from 250 H.P. turbine and pump
– Average Daily output - 80,000 cubic yards (maximum capacity per 24 hrs.= 125,000 cu yards)
– Average rate of advance - 150-200' per hour
– Anchorage - 2 steel piles (these were hollow and were jetted into the river bottom)
– Spuds (2) - Steel (20" square), one forward (38' long) and one aft (42' long)
– Hauling cables (2) - 1.125" x 3,600'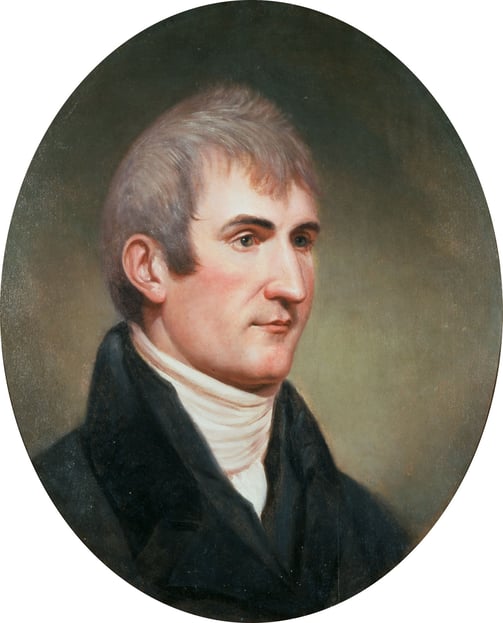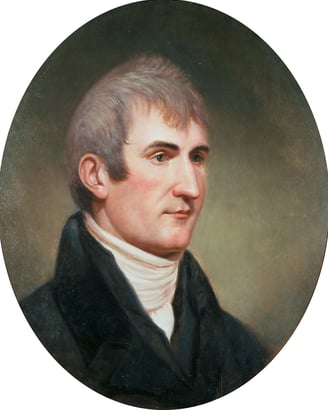 Meriwether Lewis (August 18, 1774 – October 11, 1809) was a prominent American explorer, soldier, politician, and public administrator, most notably recognized for his leadership role in the renowned Lewis and Clark Expedition.

Tasked with the exploration of the newly acquired Louisiana Purchase, Lewis embarked on a mission to establish trade relations, assert sovereignty over indigenous populations along the Missouri River, and secure territorial claims in the Pacific Northwest and Oregon Country for the United States. The expedition also made significant contributions to scientific research and collected valuable information on various Native American nations.

Appointed by President Thomas Jefferson as Governor of Upper Louisiana in 1806, Lewis's life tragically came to an end amidst a cloud of uncertainty, his death marked by gunshot wounds in 1809, with circumstances surrounding the incident remaining disputed between theories of murder or suicide.
Your Donation Is the Fuel That Propels Us Forward
Your support enables us to invest in much-needed improvements that breathe new life into the Captain Meriwether Lewis, creating an even more captivating and immersive experience for all who step aboard.

From preserving delicate artifacts to restoring original features, your donation empowers us to undertake transformative projects that elevate the dredge's historical significance to new heights.